Montana Delegation Scores from LCV's 2016 National Environmental Scorecard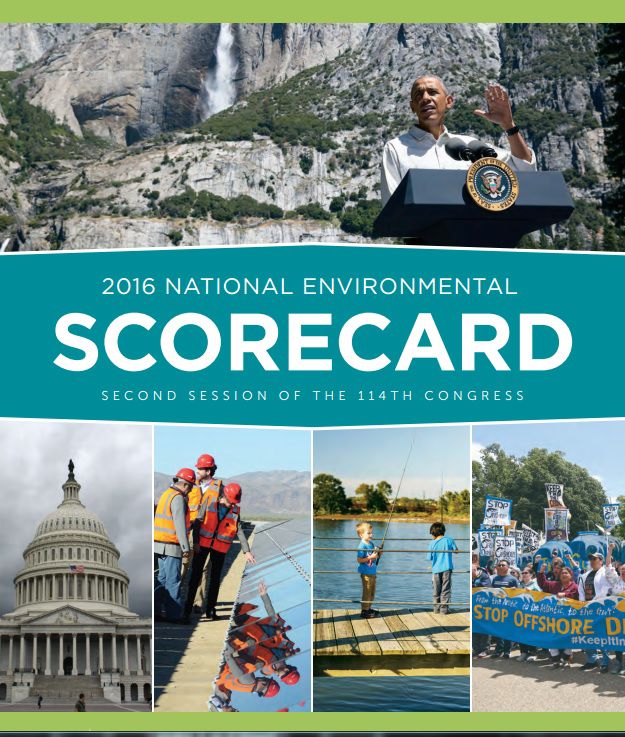 HELENA, MT – Montana Conservation Voters (MCV) unveiled scores for the Montana congressional delegation as part of the League of Conservation Voters (LCV) 2016 National Environmental Scorecard. The Scorecard includes 17 votes in the Senate and 38 House votes, setting a new record for votes scored. The Scorecard is available at scorecard.lcv.org.
"There's clearly a difference in priorities among Montana's congressional delegation. Senator Tester knows our economy depends on protecting our clean air, water, and public lands. Unfortunately, Senate Daines and Representative Zinke largely supported corporate polluters," said MCV Board chair Juanita Vero of Greenough. "While we appreciated a unified delegation in supporting the Land and Water Conservation Fund, Senator Daines and Representative Zinke put polluters' agenda ahead of the health of Montanans, our streams and rivers, and climate action. Fortunately, conservation allies like Senator Tester consistently stood up to these radical attacks."
Conservation allies, like Senator Tester, stood up for Montana's clean air and water, public lands, wildlife, and more. Senator Tester fought for the health of our families and voted against the interests of Big Polluters. Thanks to President Obama and our conservation champions in Congress we fought off the seemingly endless parade of attacks on our environmental protections from the Republican-led Congress. Indeed, both houses of Congress have already passed a resolution eliminating the Stream Protection Rule using the radical Congressional Review Act (CRA) legislative tool, and the House has passed a similar measure voiding the Bureau of Land Management's Methane and Waste Reduction Rule – both of which are the subject of votes in the 2016 Scorecard.
In Montana, Senator Tester scored an 88 percent while Senator Daines earned a 12 percent and Representative Zinke received a five percent. MCV holds cautious optimism that Representative Zinke, with his support of the Land and Water Conservation Fund and public opposition to the transfer or sell-off of federal public lands, will serve as an advocate for the protection of America's public lands as the next secretary of the Interior.
"2016 saw a relentless assault on both bedrock conservation protections and recent progress even as we experienced the hottest year on record – for the third year in a row – and world leaders came together on Earth Day to sign the historic climate agreement reached in Paris," said LCV President Gene Karpinski. "Fortunately, President Obama and our allies in Congress beat back the vast majority of these attacks and stood up for the health of our families, communities of color on the frontlines of climate change, and the international consensus to take action on climate."
For over 40 years, the National Environmental Scorecard issued by LCV has been the nationally accepted yardstick used to rate members of Congress on environmental, public health, and energy issues. For more information, visit http://scorecard.lcv.org/.
###